ShiRock Festival 2022: Band Competition Slots
Sixteen bands from across the country are all set to compete for the ShiRock festival band competition to be held at Bakshi ground, Ukhrul HQ, from 25th May to 28th May, as part of the 4th Shirui Lily Festival 2022. The winner of the competition will walk away with a cash prize of Rs 10 lakhs.
Here are the bands selected for the ShiRock 2022 band competition and their time slots.
ShiRock Band Competition – 26th May 2022
VARIATION 4 – 6:00 PM – 6:20 PM
N2BM – 6:20 PM – 6:40 PM
SYMPHONIC ILLUSION – 6:40 PM – 7:00 PM
PANTOCRATOR – 7:00 PM – 7:20 PM
GMP THE BAND – 7:20 PM – 7:40 PM
NOT FUNNY – 7:40 PM – 8:00 PM
CHASING PROXIMA – 8:00 PM – 8:20 PM
THE PROPHETS – 8:40 PM – 9:00 PM
ShiRock Band Competition – 27th May 2022
ECHOES OF MERCY 6:00 PM – 6:20 PM
1BHK – 6:20 M – 6:40 PM
STAB MAGGOT- 6:40 PM – 7:00 PM
TERRA PRGENY – 7:00 PM – 7:20 PM
RONGBIN THE SECRET REALM – 7:20 PM – 7:40 PM
MANGA – 7:40 PM – 8:00 PM
OBLIVIONS – 8:00 PM – 8:20 PM
THE PARADIGM SHIFT – 8:40 PM – 9:00 PM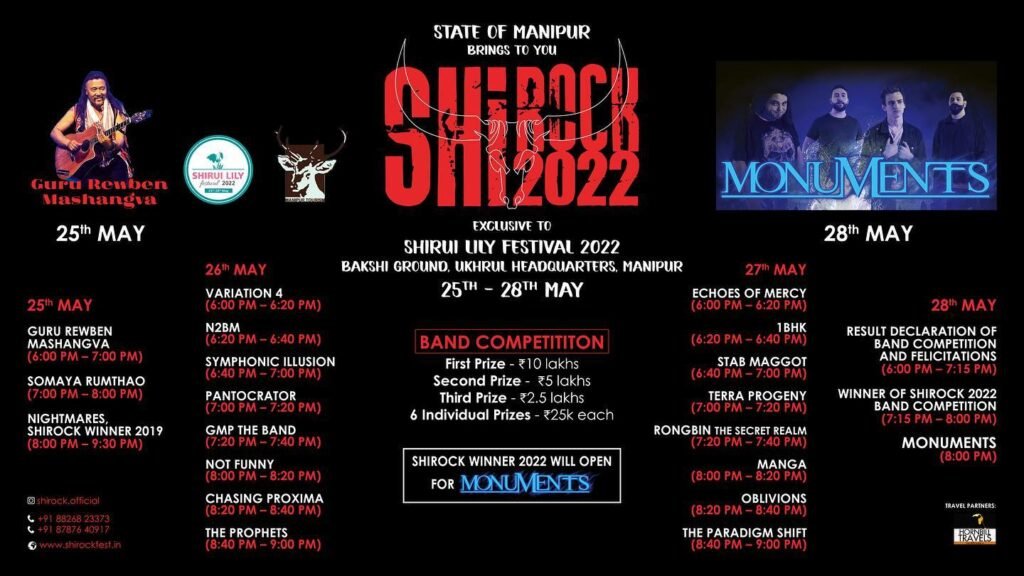 ShiRock – 25th May 2022
ShiRock on 25th May 2022 will witness performances from the following artist/bands
GURU REWBEN MASHANGVA 6:00 PM – 7:00 PM
SOMAYA RUMTHAO – 7:00 M – 8:000 PM
NIGHTMARES (Winners of ShiRock 2019) – 8: 00 PM – 9:30 PM
ShiRock – 25th May 2022
SHIROCK 2022 RESULT DECLARATION
WINNER OF SHIROCK BAND COMPETITION – 7:15 PM – 8:00 PM
MONUMENTS – 8:00 PM ONWARDS